An Electro-magnetic (EM) Survey is one of the key layers required on the precision farming journey. Precise location and understanding of soil types is a key piece of information in driving decisions around water use and nutrient placement. Not only can an EM Survey be used to reduce water inputs it can form the basis of other decisions related to plant health, production and nutrient uptake. 
An EM Survey measures two soil profiles, one measuring the variability in the top 0-50 cm of soil and the other looking at variability in the top 0-125cm of your soil profile. Following a survey customers receive a comprehensive report outlining the findings in each survey depth. Depending on the variability arising from the survey, different management zones can be created to suit the final application. These zoned maps can then be used as the basis for variable rate irrigation (VRI) variable rate fertiliser, variable rate seeding and much more.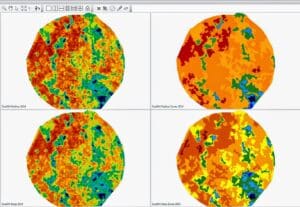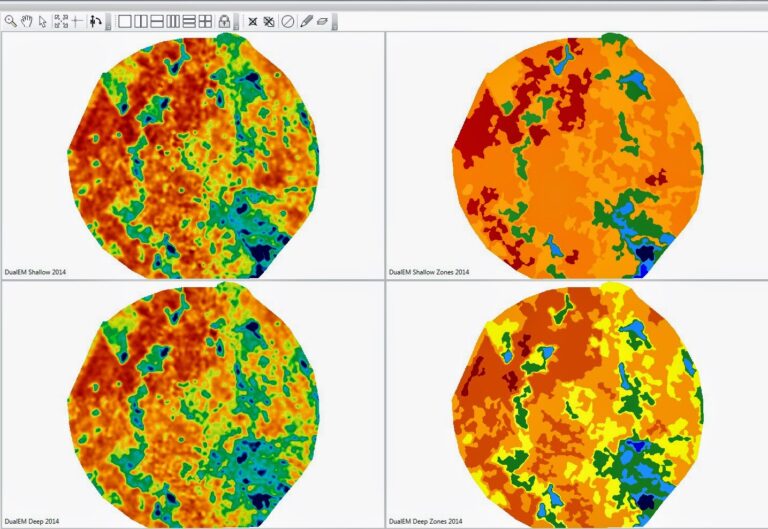 Figure 1. Top left is a shallow EM map and to the right of it a zoned map of that layer. Below is the same but for the deeper EM (0-125cm).
As well as collecting detailed soil information, and EM Survey also collected detailed topographic information. This data set in its own right is very useful and builds a deeper understanding of the role surface topographic changes play in water movement across the area. Coupled with the soil variability data itself this data can identify key areas for management changes to make a large difference to paddock, pasture, crop and nutrient management.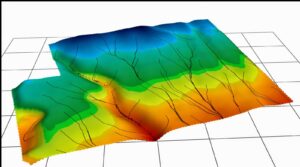 Figure 2. Specialist precision ag software generates water movement models based on the topography data.
Another simple but effective use for EM Survey data is to use it for placing soil moisture probes based on soil variability and slope to find your optimum site within each management zone. These sites can also be used as ground-truthing sites for water-holding capacity. From these your EM map can then be converted into a water-holding capacity map
EM Surveying information can be used for a myriad of uses, not all of which we've covered in this article. As soil is the basis for farming the land we work with, it makes sense to 'dig a bit deeper' and start our precision ag journey with a deeper understanding of our soils. 
New to the Vantage portfolio is water-holding capacity assessments. These work alongide our EM Survey to aid in making more informed decisions. You can find out more about water-holding capacity assessments and what they add here. 
To understand how EM Surveying can be used in your business, reach out to the Vantage NZ team to learn more.