WHO WE ARE
At Vantage NZ we enable smarter farming through the use of smart technology
Vantage New Zealand (the trading entity of Agri Optics New Zealand Ltd) has grown to be New Zealand's leading precision agriculture solutions provider since our establishment in 2010. In February 2020, we re-branded and re-launched as Vantage NZ, combining the highly skilled and knowledgeable staff from both Agri Optics NZ and GPS Control Systems. Customers can be assured that Vantage NZ will continue to provide  outstanding precision agriculture service and support across NZ. 
We are dedicated to providing a range of precision ag products and services that deliver genuine value to our clients. We are the New Zealand dealer for world-renowned precision ag providers Trimble Agriculture, AquaCheck, Halo Farm Systems and Precision Cropping Technologies (PCT).
With a highly skilled and knowledgeable team across New Zealand, we have the expertise, technology and skills to deliver leading precision ag products, services and solutions tailored to your needs. 
We work alongside the agronomist, fertiliser or field rep, or direct with you the grower to achieve real environmental, profit and production gains through the implementation of precision ag technologies leading to better and more informed management decisions. 
Our Vision
To be the leading

advisors and providers of precision agriculture solutions for the New Zealand farming sector, delivering genuine value to our clients.
Our Mission
We connect NZ agriculture with precision technology, advice, and support, for a sustainable future.
our commitment to you
We will deliver real, measurable value to every client. By doing this Vantage NZ will continue to be NZ's most trusted and respected precision ag service provider.
We will provide high quality services and solutions. We will offer quality precision ag tools and services to enable you to make informed, financially sound, spatially based decisions.
We will deliver honest advice.  Vantage NZ will only recommend precision ag advice and solutions that will truly benefit your operation. If we think our precision ag solutions cannot help you make better decisions and improve your bottom-line we will be the first to let you know.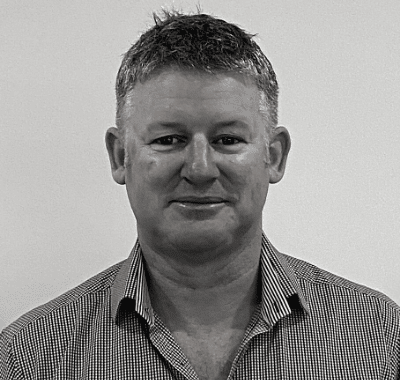 Garry Watt - Business Manager
After Growing up on a dairy come sheep/beef farm in Kimbolton in the Northern Manawatu, Garry has enjoyed a 30-year career in the Tractor and Farm Machinery industry.
Recognising the increasing contribution Precision Ag/Agritech is having in Agribusiness by giving farmers the ability to make more informed faming decisions, and improving their outputs and sustainability, Garry saw the opportunity to join Vantage NS as a positive and logical career progression. He is keen to be part of supplying the best solutions to further progress and enhance NZ's farming future and our standing in the world market. As such, he is committed to ensuring Vantage NZ is delivering the best Precision Ag outcome for every customer.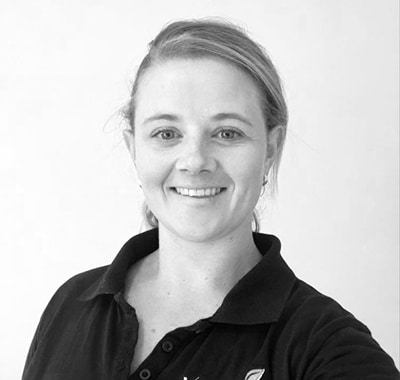 Jemma Mulvihill - Founder & Director
Jemma Mulvihill graduated from Lincoln University with a Bachelor of Agricultural Science with Honours in 2009. During Jemma's stint as an undergrad she completed a year's study abroad in the US at Colorado State University where she came across Precision Ag, amongst other things, and all it had to offer for the US market.
Jemma saw that there could be a really good fit with some of these Precision Agriculture technologies and techniques here in NZ to enhance NZ agriculture.
After finishing her undergrad degree she took the plunge and founded Agri Optics NZ (now Vantage NZ) with Craige and Roz Mackenzie, to provide Precision Agriculture technology and services to fill the gap in the ever-changing technology drive ag market that was developing in NZ.
Jemma & her husband Paddy farm a sheep and beef farm in South Canterbury. In her spare time Jemma enjoys getting out on-farm, spending time with their two young girls, playing squash, spending time with family and friends and travelling.
B AgSci (Hons)
Intermediate Sustainable Nutrient Management Course (Massey University)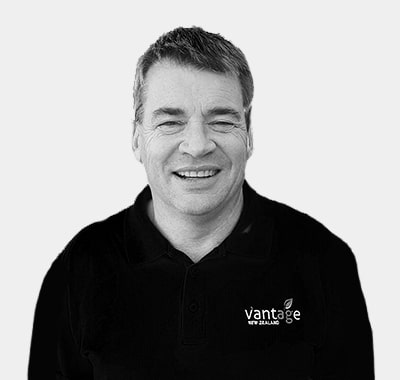 Phil Neill - Business Manager
Over the last 10 years, prior to joining Vantage NZ in 2020, Phil managed the soil moisture monitoring business for HydroServices and Aqualinc.
He graduated from Lincoln College a few years ago, completed a Masters in Business Administration from Southern Cross University in Australia a wee while ago, and the intermediate sustainable nutrient management course not so long ago!
Phil see this as a very exciting time to be joining the Vantage-NZ team. He has had an association with the previous Agri Optics (now Vantage NZ) team for almost 10 years and feels privileged to be a part of its growth in the Precision Ag area.
When Phil gets spare time he likes to read, tend to his garden and go mountain-biking, although not competitively. 
Qualifications:
– Masters in Business Administration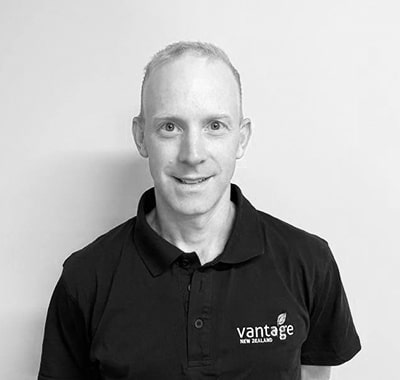 Russell van de Laak - Trimble Hardware Specialist (North Island)
Russell Joined the Vantage NZ team in 2020 having come over from New Zealand's previous Trimble re-seller.
Russell has over 20 years of experience in Agriculture as a dairy, beef, and grain farmer in addition to doing technical support and installations for  New Holland, Caterpillar and Trimble in Canada. With this, he brings an in-depth and practical understanding of mechanics, hydraulics and electronics as they pertain to machine control.
Russell is "happily" married to a Kiwi Girl from the Waikato and has 4 children. Among many things their family enjoys biking and hiking in New Zealand's beautiful environment and prioritize their faith in God as Christians and time with family.
Wade Riley​ - Wade Riley​
Wade grew up on a cotton and rice farm in Mississippi. He has worked for John Deere, Trimble and AutoFarm giving him extensive experience with technology pertaining to precision agriculture. His knowledge of agriculture is broad, but his areas of expertise include land levelling, tile drainage and orchard development such as planting and variable rate sprays.
With experience in the United States, Australia and New Zealand, Wade has broad knowledge of a range of crops such as sugar cane, cotton, rice, cereal crops, soybeans, vegetables and orchards.
Wade has been in New Zealand coming up 13 years. His outside interests include adventure motorbike riding and 4×4 safaris in his trusty Jeep.
Qualifications:
– Bachelor of Science (Hons)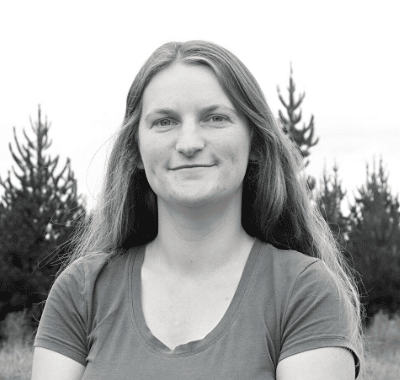 Courtenay​ - Office Support - Precision Ag Services
Courtenay has been working as an administrator for various businesses in South Canterbury for the last few years after studying to achieve her level 3 & 4 Certificate in Business Administration and Technology. From working at healthcare facilities to working at an Apple Orchard, she has a had wide and varied work experience to draw from.
Courtenay joined Vantage in September 2021 in an Office Support role to assist the Precision Ag team with administration and data processing.
She has always lived on rural lifestyle blocks and enjoys spending time outdoors working with her rescue animals, playing the violin in a local orchestra, and spending time with friends and family.
Qualifications:
– Level 3 & 4 NZ Certificates in Business (Administration and Technology)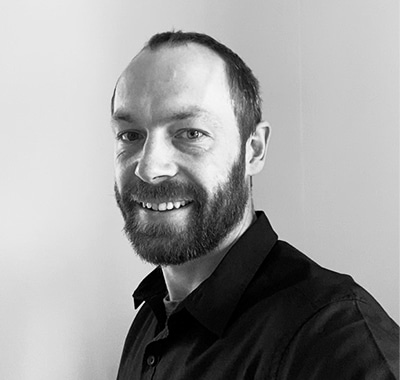 Shane Blampied - Trimble Hardware Specialist (South Island)
The last 14 years have seen Shane working as a diesel technician, troubleshooting drills and Braud harvesters. GPS and electrical issues were at the forefront of his workload. 
Shane joined Vantage NZ in March 2020 as a member of the Trimble Hardware Sales and back-up crew. He's sure his background will assist customers in fulfilling their Trimble hardware and back-up requirements.
In Shane's downtime he enjoys spending time with friends and family, boxing and motorbiking; when time allows.
Qualifications:
National Certificate in Automotive Heavy Engineering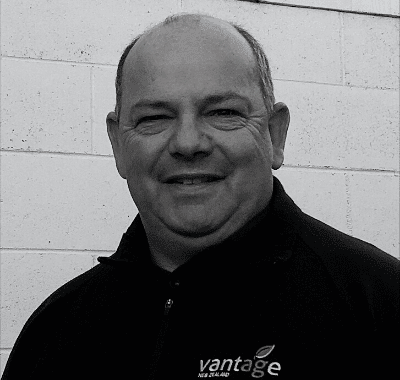 James Storey - Hardware & Software Consultant (South Island)
James has had over 10 years experience in the Precision Ag sector and until joining Vantage recently he was the New Zealand National Sales and Support Manager for Topcon Agriculture products.
Although not from a farming background he grew up in rural England and has had a passion for tractors and farming from a young age, and loves being out in the field helping farmers find solutions that suit their needs. James made the move to Vantage as "he liked the diverse range of solutions offered by the company" and is looking forward to bringing his experience to the Vantage team.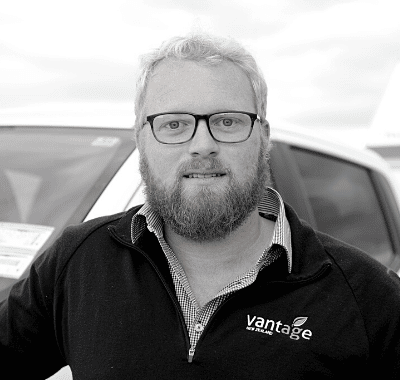 Cameron Burmeister - Trimble Hardware Specialist (North Island)
Having spent the last 10 years as a heavy diesel agricultural mechanic working all around the greater Manawatu area, with experience on New Holland, Case, Kubota, Valtra, Fendt and Massey, Cam can bring the knowledge of the machinery to complement the Trimble Precision ag equipment to best serve our customers.
When he's not out and about helping our local farmers, you'll find him spending time with his family and friends, renovating the family home or a bit of fishing if the weather allows.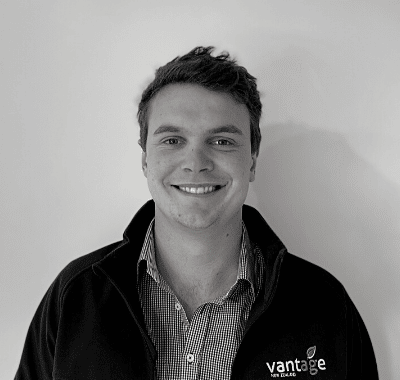 Tom Yeatman - Hardware & Software Consultant (South Island)
Tom graduated from Lincoln University in 2019 with a Bachelor of Agricultural Science. He has a wide range of practical experience, growing up on an arable farm in Hinds and then working on dairy, arable, deer and a number of different sheep and beef farms during university holidays. Before starting with Vantage NZ in 2021, he worked for an agricultural contractor driving tractors around Ashburton. Tom is very excited to be a part of the growing team at Vantage and will enjoy being based in his local area of Mid Canterbury.
During the winter Tom spends his weekends skiing and also enjoys playing squash, getting outdoors, travelling and spending time with friends and family.
Qualifications:
– Bachelor of Agricultural Science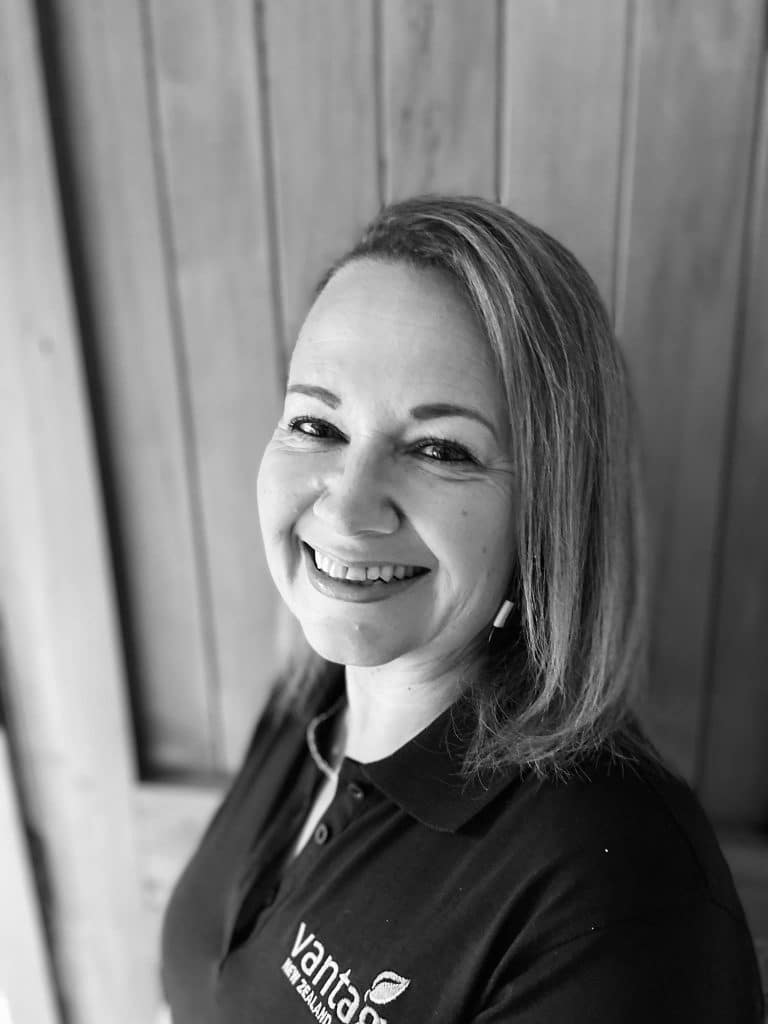 Adrianne Middleton - Administration
Adrianne emigrate to New Zealand 10 years ago with her husband and 3 children, moving to Methven from rural West Sussex in England where they had a beef and cropping farm.
Adrianne has worked in admin/accounts for many years from being Senior Receptionist at a large equine hospital to being PA for a major events catering company and looking after the accounts for their farm and now their agricultural fencing business.

With her daughter now at Lincoln Uni and her 2 sons at home her spare time is spent walking her dog, attending pilates and Aqua classes and reading.
Our Network
Our journey