As New Zealand's agricultural sector faces multiple challenges, from environmental regulations to labour shortages and extreme weather events, it is crucial to prioritise the adoption of new technologies that can help maintain productivity and efficiency on Kiwi farms.
Vantage NZ recognises the importance of investing in cutting-edge technology to support farmers in meeting these challenges head-on. By embracing the latest advancements in precision agriculture, the industry can mitigate some of the challenges it is facing and secure a sustainable future for New Zealand farming.
Trimble Agriculture's GFX-1060 and GFX-1260 displays have recently been launched in New Zealand. These displays are built with simplicity, reliability, flexibility, and scalability in mind, offering farmers and agriculture businesses the opportunity to maximise efficiency and return on investment.
The GFX-1260 display is the latest flagship display from Trimble Agriculture, with a 12-inch (30.5 cm) Android-based interface that allows for complete control and execution of all in-field work through the Precision-IQ field application interface.
The GFX-1060 display offers a slightly smaller 10-inch (25.6 cm) Android-based screen that is also equipped with the Precision-IQ interface, making it a great option for controlling and executing in-field work.
How can a new display help me?
Precision Agriculture:

 These displays offer GPS guidance and auto-steering, which allows farmers to plant crops and apply inputs with greater accuracy. This can help reduce waste, increase yields, and improve profitability.

Data Management:

 The displays allow farmers to collect and analyse data about their fields and crops, such as yield maps, topography, fuel usage and more. This information can be used to make more informed decisions about planting, fertilising, and harvesting.

Connectivity:

 The displays can be integrated with other precision agriculture technologies, such as sensors and variable rate controllers. This can help farmers automate tasks and improve efficiency.

Compliance:

 The displays can help farmers comply with environmental regulations and standards, such as those related to water quality and nutrient management.

Ease of use:

 The displays have a user-friendly interface and can be customised to suit the farmer's specific needs. This makes it easier for farmers to navigate the system and access the information they need.
One of the key advantages of these displays is their ease of use. With a short learning curve, even newer operators can quickly and reliably manage a wide range of operational tasks. Additionally, these displays are highly compatible and transferable between multiple vehicles, making them an ideal choice for farmers who need to share equipment between different operations.
Effortlessly sharing data across the operation is also made possible with these displays, making it easy to track progress and provide proof of placement from field to office. And with modular technology designed to grow as needs change, these displays are equipped to handle future functionality as it becomes available.
Vantage NZ customer Robert Crafer from Precision Slurry in Reporoa has recently upgraded to the GFX-1060 display with a NAV 900 receiver, Centrepoint RTX accuracy and CAN steering in a new Claas Xerion 4200.
The Trimble 1060 display has impressed Robert with its user-friendly interface and seamless connectivity to a wide range of implements, such as his 27000-litre slurry tank. Not only does it offer great visual clarity, but it also provides audible notifications for any operational issues that require attention.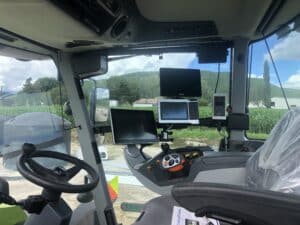 The display has proved invaluable in recording the precise placement of effluent, simplifying operations for other drivers, and ensuring accuracy. With the added option of automatically controlling sections, the Trimble 1060 display is set to further increase efficiency and accuracy for Robert and his team.
We are proud to bring the latest displays to the marketplace to ensure NZ farmers can upgrade to the latest technology at affordable rates. They are currently offering up to $8000 off the new Display Bundle (GFX-1060 or GFX-1260 with NAV-900 and Centrepoint RTX) when you trade in selected Trimble and non-Trimble equipment before 15 September 2023. *
Coupled with finance options available until 30 June with interest rates as low as 0% over 12 months*, purchasing the technology your farm needs now, while conserving your working capital with fixed loan repayments to suit your cash flow has never been so easy.
Visit our promos page for more information on the special offers above. 
*Terms and conditions apply.